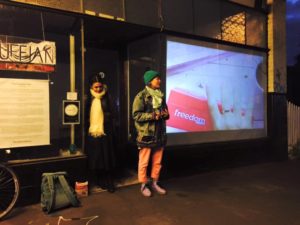 Public projection works (with sound) made for the West Projections part of the Wynter Projects festival in Footscray in 2015.
5.08mins
Here was my accompanying write up.
The Freedom Files
January 13th 2015.
A hunger strike begins in the Manus Island detention centre. After 1 week 900 asylum seekers are participating. They demand the transfer of all those in detention to the Australian mainland and a fair and timely processing of their claims while they live in the Australian community.
The hunger strike lasts for a total of 13 days.
During the strike there are numerous cases of self harm. 15 people sew their lips together, 4 people swallow razor blades and 2 people ingest detergent. Hundreds of people require medical treatment from exhaustion.
60 asylum seekers are singled out and taken to Lorengau prison in central PNG where they remained for a number of weeks without charge. A further 35 are taken to Chauka Compound for solitary confinement.
Transfield security, the PNG police and Wilson security coordinate efforts to end the hunger strike. There are systematic beatings within the detention centre and at Lorengau prison. Water is denied for 2 days. There are raids on compounds to break the will of the hunger strikers.. They confiscate people's fans, MP3 players, sheets and, most importantly, their mobile phones. These phones are the primary way asylum seekers keep in contact with family, media, and lawyers to negotiate their struggle for freedom.
During the hunger strike, boxes of Freedom™ brand muesli bars were rejected by Transfield on Manus Island on account of being too provocative for the demands of asylum seekers. These bars were then transferred to the mainland where they now remain in the Australian community while they are being processed in a fair and timely manner…
Using food as a mechanism, this set of works aims to explore the contradictory nature of advertising and its relationship to struggle. Where branding can normally be seen as an expression of alienated desires, in this case it was seen by Transfield to motivate an unwanted real hope. The word 'Freedom' became reified in response to the strength of the hunger strike, emerging in the otherwise banal dreamscape of advertising as an agent provocateur with lived meaning. The power of the product over and above the agency available to asylum seekers on Manus was made abundantly clear.
This work interrogates my ability to listen and speaks my solidarity to Manus Island and the powerful movement for dignity and freedom that occurred there this year.